I have 1000 "customers" on Gumroad – This is what I learned
Sunday, March 7, 2021 - Reading time: 3 minutes.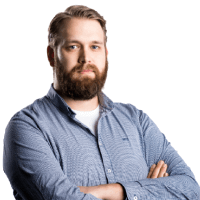 This week I hit the milestone of 1k customers with themes.dev. In this post I tell you everything that I learned on selling products on Gumroad.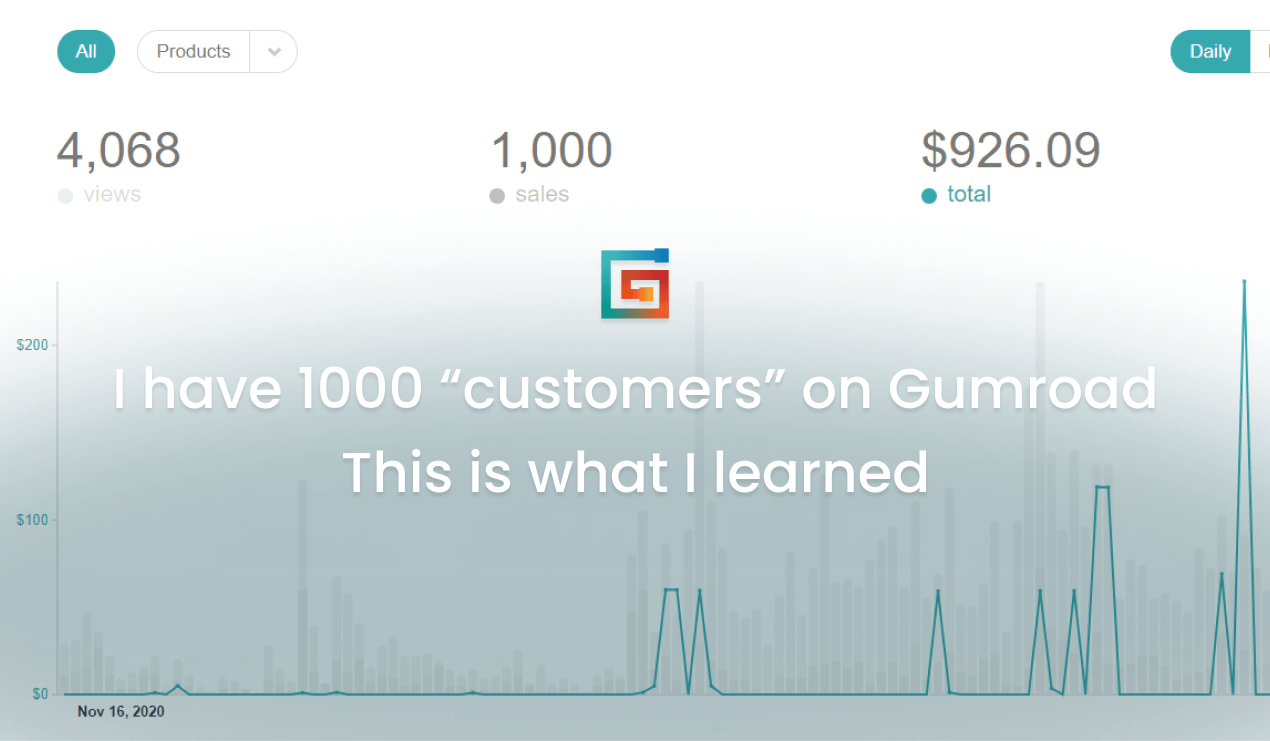 $926.09 – that is the number, for those who are wondering how much I earned.
Disclaimer: I am super new to selling on Gumroad. If I made a wrong assumption, please let me know.
A customer is a vague term on Gumroad.
Noun - a person who buys goods or services from a shop or business. That is how the dictionary describes a customer. At Gumroad the definition for a customer is a little different.
Someone who 'buys' a free product is also a customer.
If a person 'buys' multiple products, it's registered as a customer for every single purchase.
Gumroad does not validate emails
You do not need a valid email address to buy something on Gumroad. After entering a random email, you can directly download the product from your browser. Downsides on this approach are:
Your email lists are populated with fake email addresses.
You are missing potential leads.
When a customer needs to re-download a product, they register again as a new customer.
Manage your leads outside Gumroad.
I use Mailchimp to manage my customers and leads from Gumroad. To make things manageable I created a zapier integration between Gumroad – NeverBounce – and Mailchimp.
Neverbounce allows you to validate if an email address is valid. This is how my integration works:
A zap is triggered every time a customer buys a product on Gumroad.
Neverbounce validates the email address.
If valid – the Zap continues.
The customer is added to Mailchimp.
When the customer is an existing contact in Mailchimp the contact is updated.
1000 customers on Gumroad are in reality 528 unique contacts with validated emails
Only a few people are willing to tip.
When offering free products on Gumroad, people have the option to give you a small tip for your hard work. Here are my numbers.
Windlog - Product Update Template | 51 sales | $3.63 total
SaaS dashboard | 291 sales | $7.35 total
SaaS landing page | 325 sales | $12 total
Tailwind CSS Footer Pack | 297 sales | $11 total
So, I made 3.5 cent per sale from my free products.
Reviews are important.
Directly start asking for reviews. Positive ratings are important, they are a ranking factor on Gumroads own marketplace 'discover'. And of course, many positive reviews encourage others to buy your products. You can:
Manually ask people for a review – just email them.
Automate this progress with Gumroad workflows.
Automate this progress in a third-party tool like Mailchimp.
Catches with PayPal.
If you are outside the USA, UK, Canada, or Australia your only option to receive money from Gumroad is PayPal. Gumroad transfers your money every week to your PayPal account.
If you give people the option to pay with PayPal for your products on Gumroad, you also need a PayPal account. Money is then directly transferred to your PayPal account.
Do know when you have a newly created PayPal account, PayPal will hold your money for 5 a 7 business days, and you must provide 'proof' that people received your product. Only then you get your money.
Build your own 'e-commerce store'.
Gumroad gives you the option to include a 'order button' on your own website. Leverage this functionality so you can build your own e-commerce store on your own domain.
Send all potential customers to your own domain and not directly to your Gumroad store.
This makes it easier to switch to another selling strategy if Gumroad no longer meets your requirements.
That's it
If you are interested in more themes.dev business statistics, visit our open stats page.
Are you too busy keeping up with the latest Tailwind CSS news?
To save you some time, I created a Tailwind CSS newsletter with our best articles. Read our best Tailwind CSS tips, news, updates, snippets and get our latest freebies, all yours, every month!