Premium Admin Template for Tailwind CSS
AirControl - Comes with 200 handcrafted designs, including more than 400 components, all in a beautiful consistent styling. There is no better way to start building your next Tailwind project.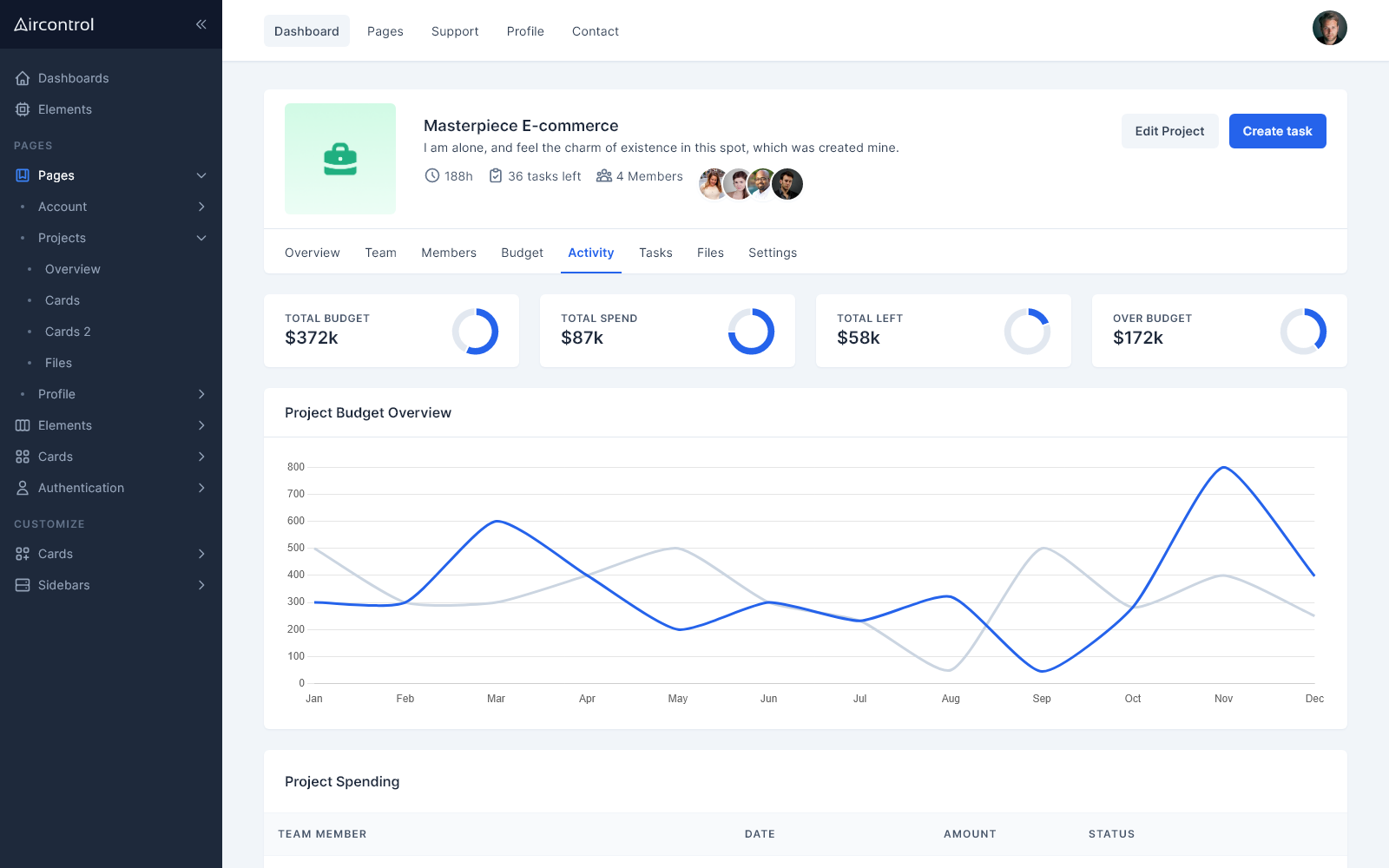 modern technology
Simple to understand and easy to customize admin theme
Fully responsive and made with Tailwind CSS and Alpine.js
Responsive
All designs are fully responsive and carefully designed, tested and implement to scale on every screen size.
Tailwind CSS
AirControl is made with the latest version of Tailwind CSS. Tailwind is the most popular choice for any modern developer who loves efficiency.
Alpine.js
Like jQuery, but for the modern web. Used for the all the UI interactions. Easy to replace with a JS framework of your own liking.
Heroicons
Beautiful hand-crafted SVG icons, by the makers of Tailwind CSS - MIT licensed (230 icons). Feel free to replace them with your own icon-set.
Chart.js
Simple yet flexible JavaScript charting for designers & developers. Great rendering performance across all modern browsers.
Unsplash
The internet's source of freely-usable images. Powered by creators everywhere.
unique designs
AirControl brings a much needed breeze of fresh air to Tailwind
Don't get me wrong - Tailwind UI looks great. But so great that every Tailwind project needs to look this way? Hell no! You and your customers will appreciate the unique look and feel that AirControl offers. Start building amazing web apps and admin dashboards with Tailwind CSS and AirControl.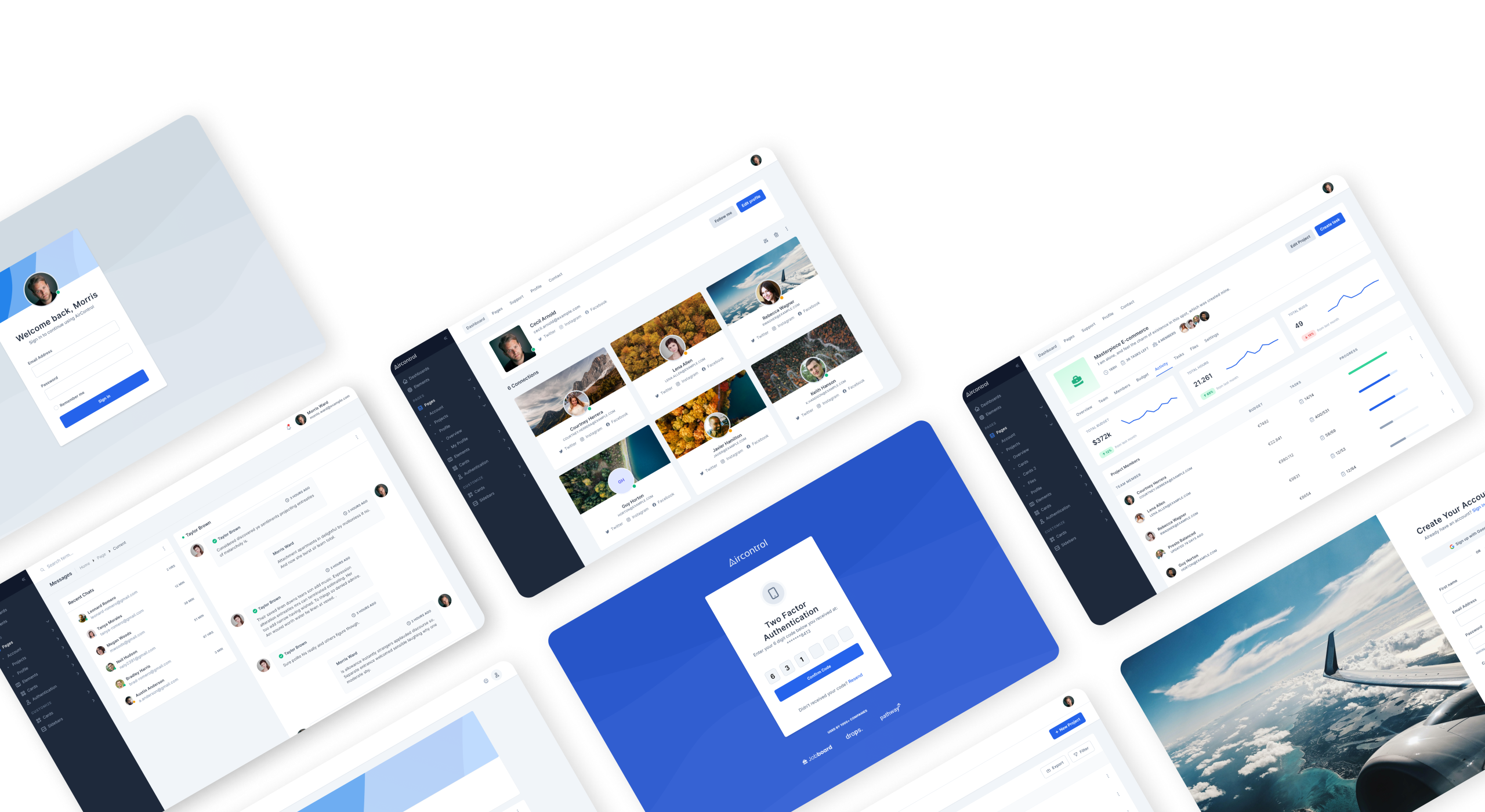 Instant Timesaver
Double your development efficiency with AirControl
Simply download AirControl to your local machine. Open it in your browser and start working right away.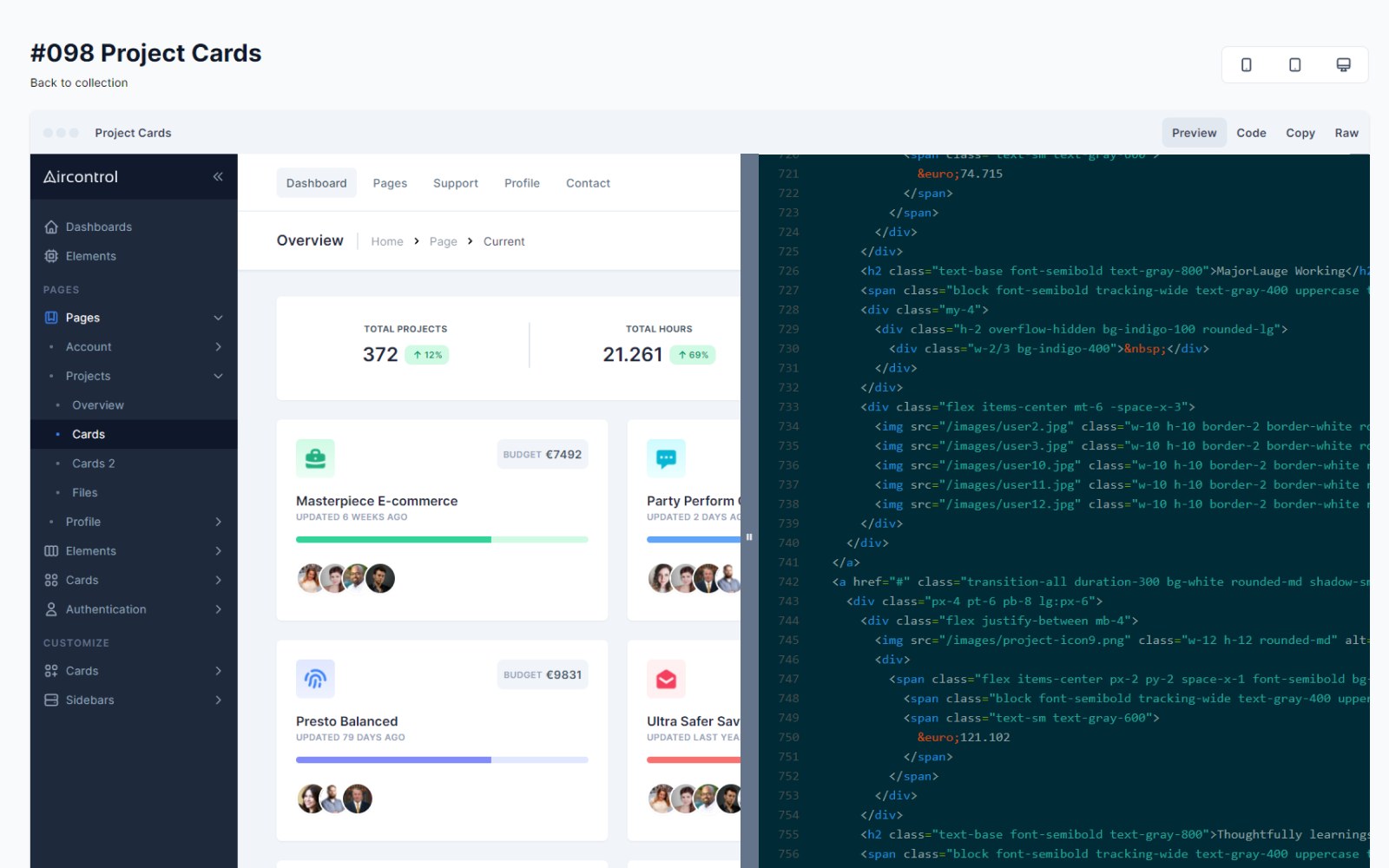 Preview, Copy And Paste
Browse AirControls collection of high-quality designs for your admin dashboard or web application. When you have found the right design, simply copy the source code and paste it into your project.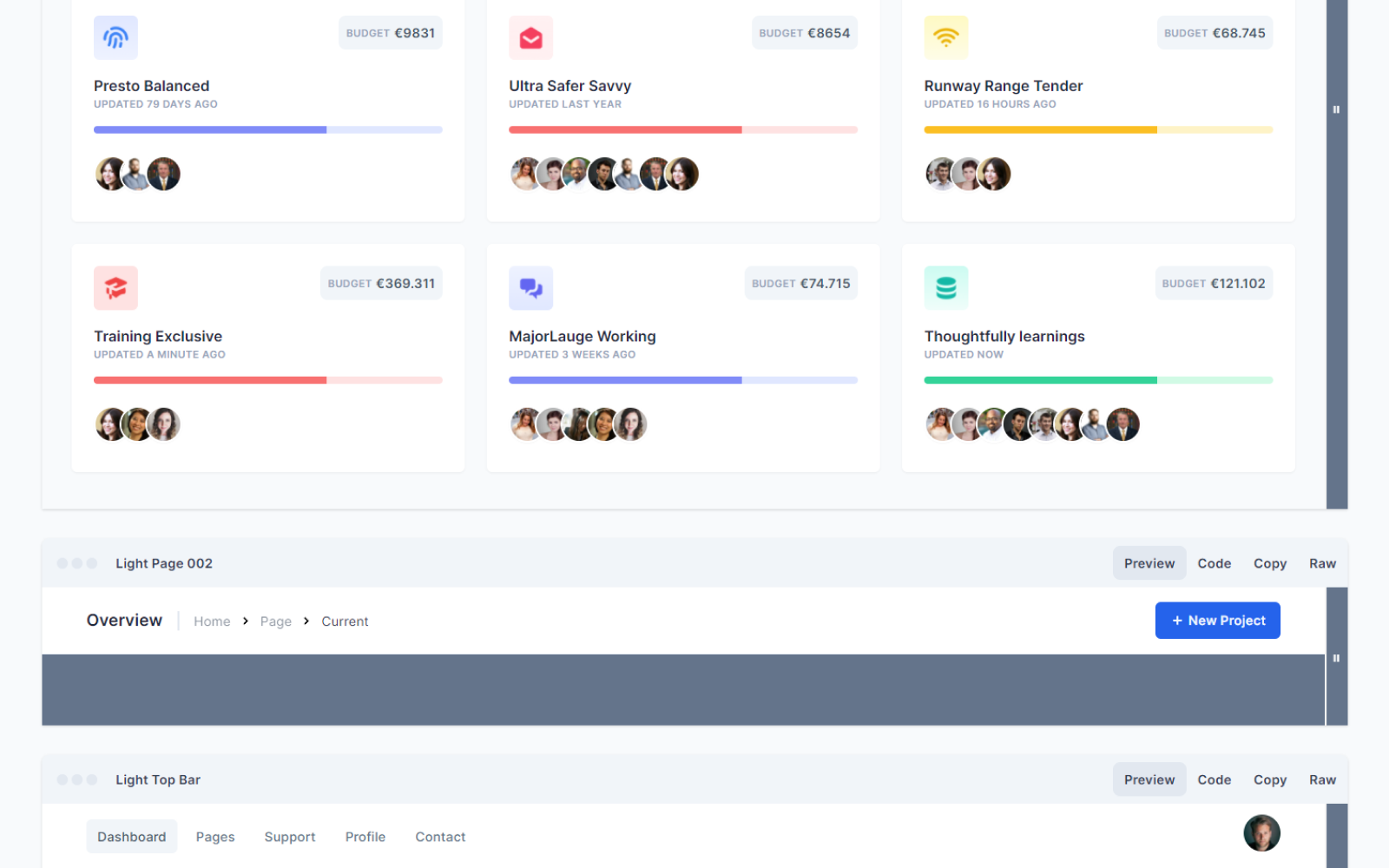 Create your own Admin Dashboard in minutes
We encourage you to combine components from our designs to create brand new creations. Just copy and paste your favourite component in to your project. All designs have their components listed as separate snippets.
Live Previews
Take a sneak peek at our beautiful professionally designed components. We divided our designs in multiple categories.
Purchase for
$79
01 - Authentication / Sign in
02 - Authentication / Register
03 - Authentication / Password
04 - Authentication / Two Factor
05 - Authentication / Messages
About AirControl
AirControl is the largest Premium Admin Template for Tailwind CSS. It comes with all the pages and elements you need for building your next web application or Admin Dashboard. With 22 different categories of pre-designed screens their is always a screen that fits your project.
With AirControl you allow yourself to develop with super powers. Quickly copy/paste elements or pre-designed pages into your admin dashboard. Save enormous amounts of time and money.
AirControl is currently in development. If you like to try the latest bleeding edge stuff, you can purchase a copy for discounted price. Final retail price will be around $249. During development you will receive bi-weekly product updates with new screens and elements.
Follow the development journey on Twitter
FAQ
Is AirControl for me?
AirControl target audiences are developers, designers, and entrepreneurs who want to save time during their next projects. AirControl includes all the screens you need to build an Admin Dashboard.
Is technical knowledge required?
Yes. You need a basic knowledge of HTML, CSS, and JavaScript to get the most out of AirControl. Experience with Tailwind CSS is recommended but not necessary.
Does AirControl ships with JavaScript?
AirControl does include JavaScript. It's designed with Alpine.js, it's easy to use. However feel free to use your own favorite JS framework.
Is AirControl a page builder?
No! We don't believe that page builders are an efficient way to create prototypes for serious projects. Working in your trusty code editor is way more efficient.
Why does the Code in the previews looks funny?
All CSS classes in our previews are randomized and all HTML and JavaScript code is minified. We do this to prevent people from stealing our code and still be able to offer live previews to our customers before buying our products.
Is AirControl an official Tailwind Labs LLC product?
AirControl is not associated with Tailwind Labs LLC. AirControl is developed by themes.dev and based on the open-source Tailwind CSS framework.
Does AirControl come with a license?
Yes, see our licenses page
If have another question, how do I contact you?
Please send us an email at [email protected]
What is currently included:
The following Tailwind CSS components, element and pages are currently included with AirControl. We add new designs and components on a bi-weekly schedule.
Sections including designs
🟩 Authentication - Sign in
🟩 Authentication - Register
🟩 Authentication - Password reset/forgot
🟩 Authentication - Two factor
🟩 Authentication - Messages
🟩 Projects
🟩 Profiles
🟩 Messaging
🟩 Pages
🟩 Subscriptions
🟩 Layouts
🟩 Support
🟩 Accounts
Sections that we are working on
🟦 Teams
🟦 Social
🟦 Users
🟦 Dashboards
🟦 Documentation
🟦 Modals
🟦 E-commerce
🟦 Widgets
🟦 Errors
Changelog
See the changes we make on AirControl, the Admin theme for Tailwind CSS.
Update #9 - Released January 22
Fixed performance issue bug in the screen gallery
Removed code preview due performance issues
Updated styling to be more consistent
account/billing.html
account/referrals.html
account/api.html
account/integrations.html
account/overview.html
account/edit.html
account/security.html
account/notifications.html
Update #8 - Released December 30
Upgrade to Tailwind V3
widgets/headings.html
Update #7 - Released December 9
support/faq-item.html
support/faq-simple.html
support/faq-toggle-cards.html
support/faq-toggle-toggle.html
support/knowledge-dashboard-alternative.html
support/knowledge-dashboard.html
support/knowledge-page.html
layouts/double-stacked-container.html
layouts/double-stacked-dark.html
layouts/double-stacked-variation.html
layouts/double-stacked-widths.html
layouts/double-stacked.html
layouts/sidebar-dark-mini-plus.html
layouts/sidebar-dark-mini-secondary.html
layouts/sidebar-dark-mini.html
layouts/sidebar-dark-toggle.html
Update #6 - Released November 26
subscriptions/subscriptions-table.html
subscriptions/pricing.html
subscriptions/pricing-table.html
subscriptions/pricing-simple.html
subscriptions/invoice-public.html
subscriptions/invoice-public-simple.html
subscriptions/invoice-details.html
pages/aboutus.html
pages/contact.html
pages/joboffer.html
pages/license.html
pages/post.html
pages/posts.html
pages/sitemap.html
pages/team.html
Safari bug fixes
Update #5 - Released November 7
profiles/profile-connections-alternative.html
profiles/profile-teams.html
profiles/profile-groups.html
profiles/profile-connections.html
projects/project-create.html
projects/project-budget.html
projects/project-settings.html
projects/project-detail.html
projects/project-dashboard.html
projects/project-tasks.html
projects/project-members.html
projects/project-files-alternative.html
projects/project-activity.html
Update #4 - Released October 7
authentication/message-verify.html
authentication/message-password.html
authentication/message-logout.html
authentication/message-verify-cover-alternative.html
authentication/message-password-cover-alternative.html
authentication/message-logout-cover-alternative.html
authentication/message-verify-split.html
authentication/message-password-split.html
authentication/message-logout-split.html
authentication/message-verify-simple.html
authentication/message-password-simple.html
authentication/message-logout-simple.html
authentication/message-verify-sidebar.html
authentication/message-password-sidebar.html
authentication/message-logout-sidebar.html
authentication/message-verify-plain.html
authentication/message-password-plain.html
authentication/message-logout-plain.html
authentication/message-verify-image.html
authentication/message-password-image.html
authentication/message-logout-image.html
authentication/message-verify-header.html
authentication/message-password-header.html
authentication/message-logout-header.html
authentication/message-verify-cover.html
authentication/message-password-cover.html
authentication/message-logout-cover.html
authentication/message-verify-column.html
authentication/message-password-column.html
authentication/message-logout-column.html
authentication/message-verify-bold.html
authentication/message-password-bold.html
authentication/message-logout-bold.html
authentication/message-verify-alternative.html
authentication/message-password-alternative.html
authentication/message-logout-alternative.html
authentication/twofactor.html
authentication/twofactor-cover-alternative.html
authentication/twofactor-split.html
authentication/twofactor-simple.html
authentication/twofactor-sidebar.html
authentication/twofactor-plain.html
authentication/twofactor-image.html
authentication/twofactor-header.html
authentication/twofactor-cover.html
authentication/twofactor-column.html
authentication/twofactor-bold.html
authentication/twofactor-alternative.html
authentication/password-forgot-split.html
authentication/password-reset-split.html
authentication/password-forgot-simple.html
authentication/password-reset-simple.html
authentication/password-forgot-sidebar.html
authentication/password-reset-sidebar.html
authentication/password-forgot-plain.html
authentication/password-reset-plain.html
authentication/password-forgot-image.html
authentication/password-reset-image.html
authentication/password-forgot-header.html
authentication/password-reset-header.html
authentication/password-forgot-cover.html
authentication/password-reset-cover.html
authentication/password-forgot-cover-alternative.html
authentication/password-reset-cover-alternative.html
authentication/password-reset-alternative.html
authentication/password-reset-bold.html
authentication/password-reset-column.html
authentication/password-forgot-column.html
authentication/password-forgot-bold.html
authentication/password-forgot-alternative.html
authentication/register.html
authentication/register-cover-alternative.html
authentication/register-split.html
authentication/register-simple.html
authentication/register-sidebar.html
authentication/register-plain.html
authentication/register-image.html
authentication/register-header.html
authentication/register-cover.html
authentication/register-column.html
authentication/register-bold.html
authentication/register-alternative.html
authentication/signin-user.html
authentication/signin-simple.html
authentication/signin-plain.html
authentication/signin-image.html
authentication/signin-header.html
authentication/signin-cover-alternative.html
authentication/signin-bold.html
messaging/inbox.html
messaging/private-chat.html
Update #3 - Released August 17
projects/kanban.html
messaging/chat.html
authentication/signin-split.html
authentication/signin-alternative.html
authentication/signin-cover.html
authentication/twofactor.html
Update #2 - Released August 9
profile/public.html
authentication/signin.html
authentication/signin-sidebar.html
authentication/signin-column.html
authentication/countdownn.html
Update #1 - Released July 31
profile/myprofile/index.html
projects/cards/index.html
profile/overview/index.html
projects/files/index.html
projects/overview/index.html
projects/cards2/index.html